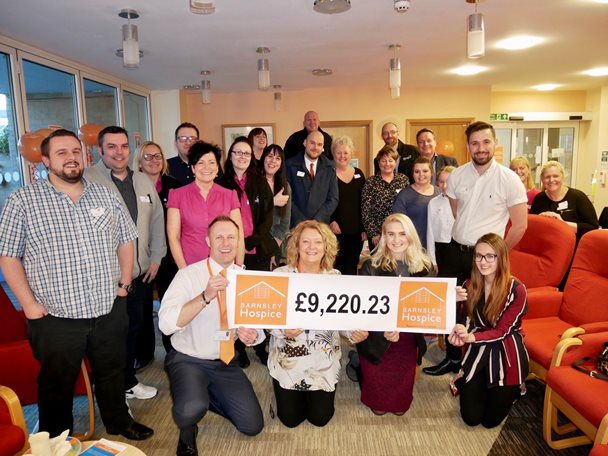 Posted 3 April 2018
Businesses in Barnsley battled for first place in the Barnsley Hospice 'Accumulator Challenge', with the town's Victoria Medical Centre crowned 2018 winners.
Our very own 'Lord Sweetener', corporate fundraiser Simon Atkinson, set The Apprentice-style task to organisations across the area to turn £28 into as much money as possible during the 28 days of February. The team from the GP surgery, based on Victoria Crescent West, were crowned winners after raising almost £2,200.
Staff at the centre launched 'pop-up cafes' in the waiting area, held a race night and set up a permanent fundraising stall in the reception. Employees were also invited to 'buy' time off and early finishes, in return for donations.
In total, the Accumulator Challenge saw over £9,200 raised from 15 organisations including Whites Bakery, Yorkshire Psychotherapy, Barnsley Norse, Wilbys, Dearne FM, Barnsley Council, Storefirst, Better Barnsley, The Closet Queen, CAPITA, Sally's Glitz 'n' Glam, Hair Revolution, Churchfield Vets and Barnsley College.
The winners were crowned and participants thanked at a special event held at the hospice last week.
Simon, who didn't disappoint with his puns at the event, said: "We've been blown away by the enthusiasm and effort that all participants put into this challenge, and Victoria Medical Centre are well-deserved winners with an amazing £2,200.
"It's been great fun to see the ideas that have been generated and some of the teams are already talking about what they will do to try and win the 2019 title. The money raised will help us care for the hundreds of families who need us each year and for that, we are really grateful."
Fundraising initiatives dreamed up by the teams included a 'pounds for pounds' sponsored slim, a challenge to eat as much tripe as possible in 20 minutes, a pop-up market stall, and a micro-business selling handmade cards.
Kate Appleyard of Victoria Medical Centre, which is based on Victoria Crescent West, said: "We are really proud to support our local hospice. It's been a privilege to take part in the challenge and we didn't expect to raise so much. We raised £500 in the first week and just pushed it as far as we could.
"We're really grateful to the team at the centre and the patients who helped us raised all the money. We will definitely be taking part in the Accumulator Challenge next year – especially now we've sussed out our competitors!"
Thanks to Tim Cragg of Hi-Shots Photography for capturing these great images from our celebration event. The full album can be found over on our Facebook page.