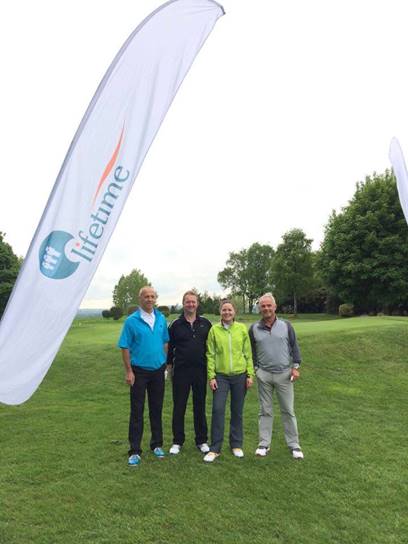 Posted 14 March 2018
A local man whose mother was cared for in Barnsley Hospice has shared his reasons for supporting our annual Golf Day in May.
Phil McGowan, from Birdwell, completes the 18-hole course at Silkstone Golf Club every year to raise money in memory of his mother, Marlene Richards, who passed away in 2012. She received care in The Limes Day Therapy Centre before moving into our inpatient unit.
"I take part in the Golf Day with my brother Mick, and my friends Karl and Emma, and this will be my sixth year," Phil said.
"My mum got me involved with the Golf Day long before she passed away and I said I'd keep it up as long as I could walk around the course! Mick and I also tragically lost a friend to cancer last year so the hospice means a lot us both." As well as supporting the Golf Day, Phil tries to raise what he can to help the hospice throughout the year, inspired by the care he saw his mother receive.
"I do small collections whenever I can. You can't overestimate how valuable the service is, it's a wonderful place and what they do will affect every person in the borough in some way during their lives. Without voluntary fundraising, the hospice wouldn't exist and it's a travesty that they still have to rely so much on private donations to stay open.
"I try to help in any way I can, and anyone who gets the opportunity to support the hospice should do the same."
Our annual Golf Day takes place on Friday 18th May. Tickets cost £45 per person or £180 for a team of four.