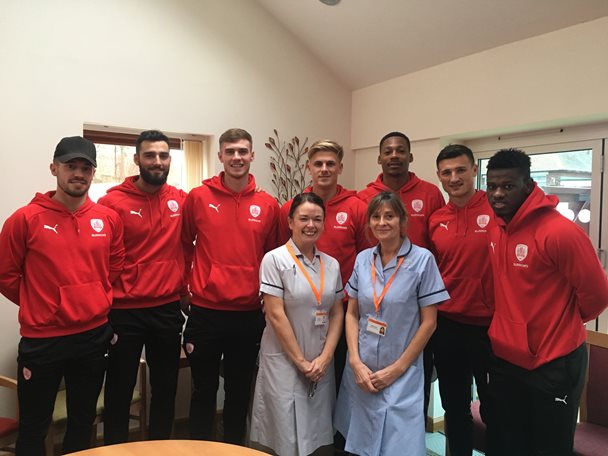 Posted 15 December 2017
Players from Barnsley Football Club's first team kicked off Christmas by visiting our patients.
The entire squad, along with manager Paul Heckingbottom, dropped in yesterday, Thursday 14th December, to deliver presents, pose for photos and spread some festive cheer amongst patients and staff.
It was defender Liam Lindsay's first visit to the hospice. He said: "We've all really enjoyed the visit. The Barnsley community have been really welcoming since I joined the team in May so it feels good to give something back."
The team also presented a cheque for just under £600, raised through Barnsley Football Club and Reds in the Community staff taking part in November's Barnsley 10km road race.
Sam Silverwood, our fundraising manager, said: "It was an absolute pleasure to welcome the team to the hospice and we're really grateful that so many of them gave up their time. The boys raised a lot of smiles, and we feel very lucky to have such a good relationship with the club."