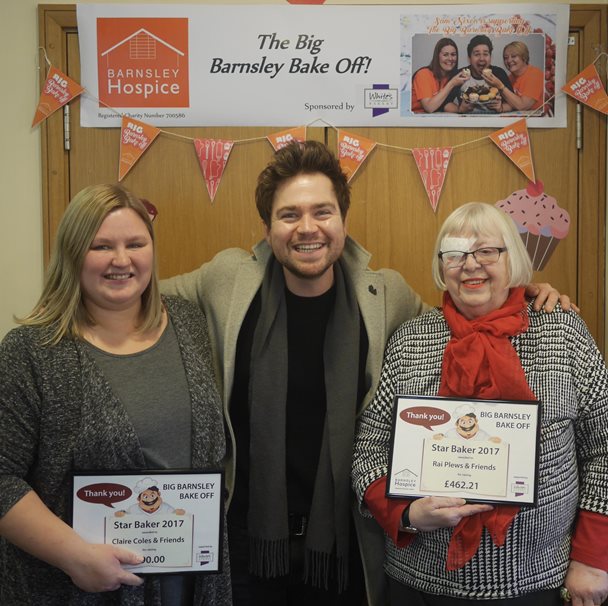 Posted 4 December 2017
TV presenter Sam Nixon has crowned the winners of our Big Barnsley Bake Off competition.
Rai Plews from Worsborough and Claire Coles from Athersley were jointly named 'star bakers' after raising over £1,150 between them, with the help of friends and family.
The year 11 class at Netherwood Academy in Wombwell scooped the 'showstopper' award for their collective cakes and enjoyed a visit from Sam on Friday 1st December. He presented Rai and Claire with their certificates at the hospice later that day.
The Big Barnsley Bake Off competition ran throughout September and October, encouraging individuals, schools, workplaces, clubs and community groups to hold bake sales and tea parties to raise money for the hospice. It was sponsored by Worsborough Bridge-based White's Bakery Limited and ran alongside TV's The Great British Bake Off.
This is the second year we have run the competition and over £7,500 has been raised through the initiative so far.
Sam, of Pop Idol, Celebrity Masterchef and CBBC's Junior Bake Off fame, grew up in Barnsley and also judged the Big Barnsley Bake Off in 2016.
He said: "It's an absolute pleasure to be part of this fundraiser and I've been really impressed this year by both the standard of baking and the amount of money raised. It's great to see the people of Barnsley go to so much effort to support such an important charity. Rai, Claire and the pupils at Netherwood, are all very worthy winners."
Bethan Gledhill, our community fundraiser, said: "Once again we've been blown away by the support for this initiative and we're already looking forward to the Big Barnsley Bake Off in 2018. Watch this space!"