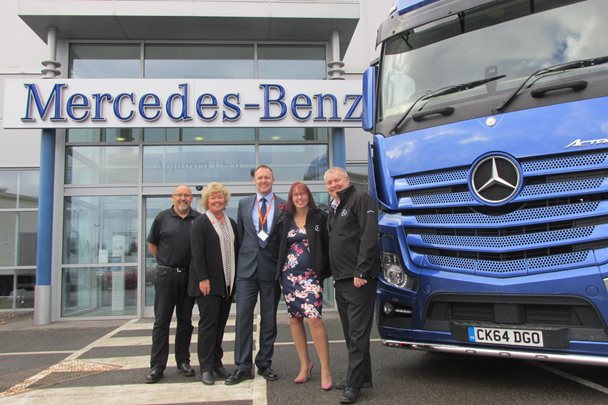 Posted 4 December 2017
A group of colleagues from Mercedes-Benz Trucks UK have pledged to fundraise for us over the next 12 months.

Mercedes-Benz Trucks, which has its operations base at Wentworth Park in Tankersley, recently launched a new charity and CSR strategy which enables colleagues to support causes that are close to their hearts.

The funds raised will help us provide specialist care for people affected by a life-limiting illness, including cancer, motor neurone disease and heart disease.

Simon Atkinson, our corporate fundraiser, said: "We are very excited that these individuals at Mercedes-Benz Trucks UK have agreed to support the hospice, and we're very much looking forward to the year ahead together.

"We were given a full tour of their facilities – we didn't realise that such a huge company has such an impressive facility right on our doorstep here in Barnsley.

"We've already discussed fundraising events, including the possibility of a summer family fun day where members of the public could get the chance to take a Mercedes-Benz truck for a spin."

Several team members from Mercedes-Benz Trucks visited the hospice to find out more about what we do.. The team bought £300 of Christmas gifts from our shop, and provided a huge Mercedes-Benz gazebo for us to use at fundraising events.

Sharon Smith is one of the Mercedes-Benz team fundraising for the hospice. She said: "We're delighted to team up with Barnsley Hospice and we hope to help raise the funds they need.
"Sadly, many team members from Wentworth Park have known someone that has used the hospice in one way or another. And when we visited the hospice, we saw what incredible work the staff do to provide vital care and how much the patients appreciate it."