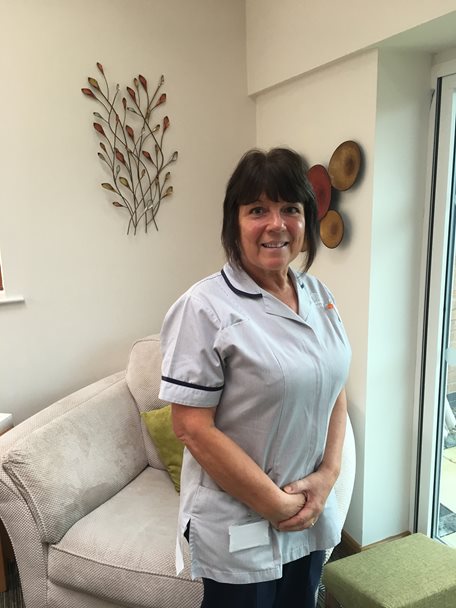 Posted 11 October 2017
This year's national Hospice Care Week (9-16 October) is designed to help show the many faces of hospice care. Here at Barnsley Hospice we're sharing the stories of just some of the wonderful people who help our patients and their families, in many different ways.
Today, we're introducing…
Gill Cooper, auxiliary nurse
Gill initially joined the hospice as a volunteer and loved it so much she decided to make it her career, leaving the world of retail to train as an auxiliary nurse and care for people on the inpatient unit.
"I have lost a few close members of my family to cancer and it sounds like a cliché but I wanted to do something to help others with life limiting illnesses.
I started as a volunteer 16 years ago, moving from the day unit to the inpatient unit, and eventually training as an auxiliary nurse. I went onto the bank for a year, working shifts around my job in retail, before moving to the hospice full time.
Coming to work at the hospice is like coming home. It's an absolutely fantastic place to work. We've got a really good team, looking after people at the most difficult time of their lives. I feel really privileged to be able to help them.
I never feel like I don't want to come to work. I just love my job. I love that we have the time to spend with patients and their families, helping with the small – but important – things like doing their hair and nails, or helping them have a jacuzzi bath. My colleagues are friends too and we all support each other on the difficult days.
A lot of people are frightened when they first come into the hospice as they don't know what to expect, so a large part of my job is putting people at ease. Sometimes it's things like holding their hand in the middle of the night that makes all the difference.
I always make time to chat with both patients and relatives, and encourage them to share any worries or concerns. Listening is a big part of what we do here.
Outside of work I like to socialise with my husband Kevin and our friends, and we love to go on holiday. I've also got a son, daughter, step daughter and three grandchildren, so they keep me busy too."
What is your favourite memory of your time at Barnsley Hospice?
"We had a young lady in a few Christmases ago and she had three little girls. On Christmas Eve we arranged two of the rooms so they could all stay together as a family and wake up together. It was a privilege to be able to help them spend their last Christmas together."
What one thing would you like people to know about Barnsley Hospice?
"That everyone here does their best to help, reassure and care for everyone who needs us."
#HospiceCareWeek
#WeAreHospiceCare