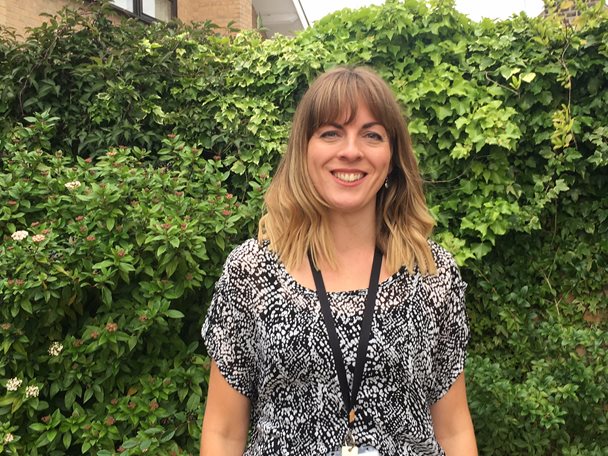 Posted 10 October 2017
This year's national Hospice Care Week (9-16 October) is designed to help show the many faces of hospice care. Here at Barnsley Hospice we're sharing the stories of just some of the wonderful people who help our patients and their families, in many different ways.
Today, we're introducing…
Vicky Stead, community fundraising team leader
Vicky has been part of the hospice team for 11 years. Joining as a fundraising administrator, and now team leader for community fundraising, Vicky's passion for patient care also saw her spend 18 months as an auxiliary nurse on the inpatient unit.
"I grew up in a pub raising money for the hospice, and it's always been close to my heart. So many people in the town have been touched by its work. I've always wanted to work for the charity, so 11 years ago, even though there were no jobs available at the time, I contacted them with my CV. I was delighted to be asked to apply for the fundraising administrator position a few months later, and since then I've never looked back!
My role within the community fundraising team is to support people who are raising money for the hospice, and help spread the word about what we do here. We get so much support from the community, in so many different ways – from supermarket bag packs to sky dives, and so much in-between. At the moment we have a fundraiser planning to cycle from his home in Portsmouth to the Barnsley FC match against Leeds next month, and he's splitting the sponsorship between ourselves and the hospice where he lives. It amazes me what people do to help us.
I loved my time working as an auxiliary nurse on the inpatient unit. I've always been passionate about what we do on the care side and nursing is always something I've been interested in, so it was a great experience. It's also given me more confidence in my fundraising role to go out and talk about what the hospice does, as I've experienced both sides.
The best thing about my job is knowing that what we're doing is helping people. Work can be stressful for the fundraising team as we have so much to raise, but we always keep patients and families in our minds.
I've got three boys aged 16, 14 and six so they keep me busy outside of work too, along with my husband and my border terrier Bill."
What is your favourite memory of your time at Barnsley Hospice?
"Lots of things I've done as a fundraiser stick in my mind. A few years ago, we did a lingerie calendar and I had to pose in a thong – that's something I've not forgotten! I did an abseil as a personal challenge and more recently, I completed the Bubble Rush with my family which was amazing."
What one thing would you like people to know about Barnsley Hospice?
"That it's just a lovely, caring place to be. It's a home from home. If people haven't experienced it for themselves I can understand why they might have misconceptions, but we're all working hard to get the message out there."
#HospiceCareWeek
#WeAreHospiceCare