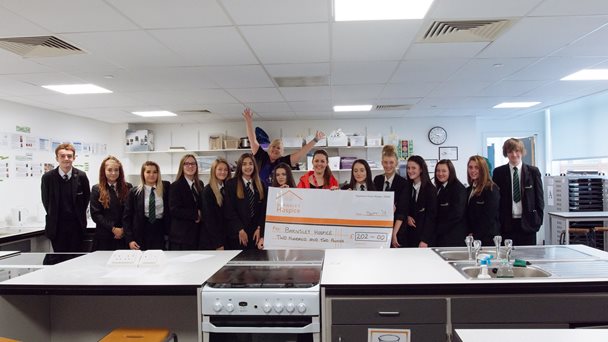 Posted 9 October 2017
Students at Netherwood Academy in Wombwell have been putting their baking skills to the test to raise money for our Big Barnsley Bake Off.
The Year 11 pupils took part in the challenge as part of their GCSE hospitality studies and raised £202 for the charity.
The Big Barnsley Bake Off, backed by TV star Sam Nixon, takes place throughout October. We are urging individuals, schools, businesses and community groups to host their own tea party, cake sale, or bake off event to raise money.
Teacher and curriculum leader for food at Netherwood Academy, Jo Wilson, said: "As part of their studies, the class have to plan an event which we mark for organising, costing, researching and hosting. When we received a flyer about the Big Barnsley Bake Off, it could not have been better timing. I also recognised the hospice fundraising manager in the photo as I used to teach her!
"It promoted a discussion about the money raised and who it would mean more to. We usually organise something for a national cancer charity, but this year the students were keen to support a cause closer to home. The event was very successful and we were delighted to raise such vital funds for Barnsley Hospice. We hope we've impressed Sam with our fundraising efforts as we'd really like him to come and judge our junior bake off."
As an added incentive for bakers, Barnsley-born Sam Nixon will present the individual, school or business that raises the most money from their baking with a 'star baker' certificate. We've also introduced a 'show stopper' award for the most creative bake, which will also be presented by Sam.
Our fundraising manager Sam Silverwood said: "Every pound raised makes a real difference to the care we can provide for patients and their families. For example, raising just £26 in the Big Barnsley Bake Off could help towards one hour of exceptional care on our Inpatient Unit. We're very grateful to Netherwood Academy and all the other wonderful organisations that are supporting this initiative."
Anyone interested in holding their own tea party, cake sale or bake off should contact Bethan Gledhill on 01226 323613 or email bethan.gledhill@barnsley-hospice.org.