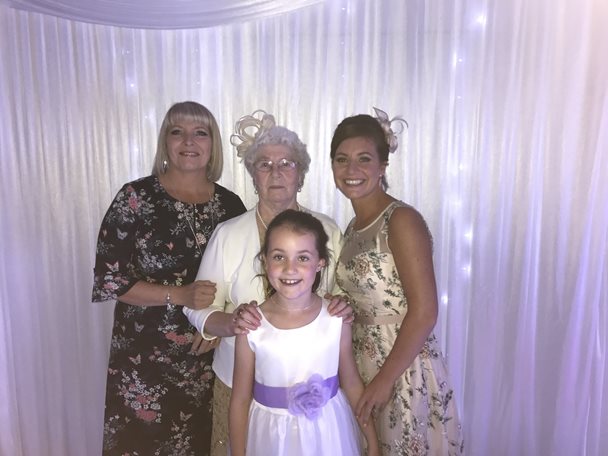 Posted 19 September 2017
This weekend's midnight walk will be a family affair for one group of fundraisers, as four generations prepare to pound the pavements together in their pyjamas.
Penistone-based Kerry Gaskell, 36, will be joined by her nine-year old-daughter Daisy, 50-year-old-aunt Michelle Burton and 82-year-old-grandma Jean Platts for the One Night in a Onesie sponsored walk this Saturday (23rd September).
The group are taking on the challenge in memory of Kerry's friend Paula Ellison, who was cared for by the hospice before she passed away from cervical cancer at the age of 41.
Kerry, a nurse at Penistone Group Practice, said: "I did part of my nurse training at the Hospice and visited Paula when she was there, so I've seen the amazing work that goes on from both sides. Paula was so young, and so scared when she went into the Hospice, but everyone there went above and beyond to make sure she was comfortable. She had recently got married and her husband and son were able to stay there with her, so it was like a home from home."
Kerry and her family have their onesies at the ready for the sponsored walk on Saturday, which starts and ends at Horizon Community College and is now in its 11th year.
It will be the first time that Kerry, her daughter and grandma have taken on the challenge, but the group are no strangers to fundraising together. The foursome completed the Barnsley Hospice Bubble Rush run in Locke Parke in July, where they were also joined by Kerry's seven-year-old son Bodhi.
Saturday's 'One Night in a Onesie' walk will provide a vital source of income for the charity, which has to raise over £2m a year – in addition to £1.6m funding from the NHS Clinical Commissioning Group (CCG).
There is still time to sign up for the challenge by contacting the Barnsley Hospice fundraising team on 01226 244244. Registrations can be taken on the night and walkers can choose from a five or ten-mile route around Barnsley town centre and surrounding villages. The event is sponsored by XPO Logistics.