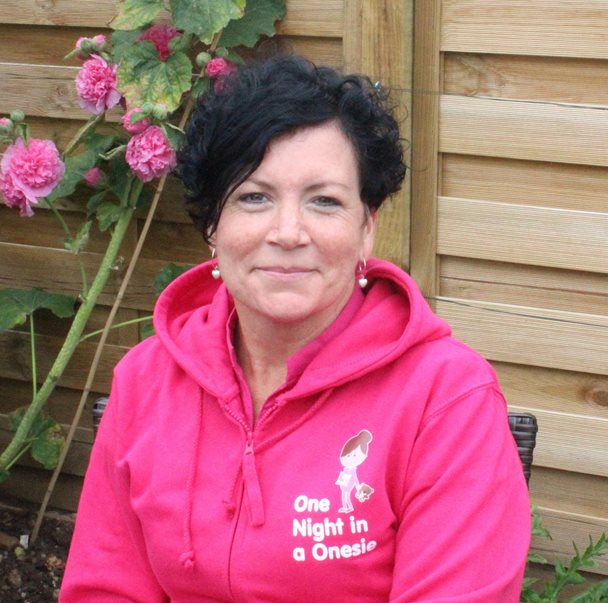 Posted 11 September 2017
A local woman whose family was cared for here at Barnsley Hospice is urging people to join her for our midnight walk later this month.
Inspired by the support her mother and cousin received whilst battling cancer, Steph Millington, who lives in Staincross, will stride out with hundreds of other women for 'One Night in a Onesie' on Saturday 23rd September.
Steph's mother, Jeanne Millington, stayed in the In Patient Unit twice before her death from lung, kidney and brain cancer two years ago. Her cousin, Sam Hoyland, died of oesophageal cancer here just three weeks before her mum. She was 45.
Steph, a cleaning manager, said: "I'd never actually been inside the Barnsley Hospice before I visited my mum. I was in tears at the thought of her being there but within five minutes of walking through the doors I was amazed. I thought I'd be coming to a place of doom and gloom, but it was like a weight had been lifted from my shoulders. The nurses are like angels and my mum was so happy there. Every time they left the room, they kissed her on her head and called her by her nickname, Jeannie.
"My cousin visited my mum while she was there and saw what a wonderful place it was, which made her feel so much better when it was her time to be cared for. The nurses treated the wider family like friends too and I just can't thank them enough for their care and support."
In addition to a £1.6m NHS grant, we have to raise over £2m a year through fundraising – and Steph is calling on the community to help. She said: "Care is free for patients and their families but not free to provide, so we need to do something to keep it operational and raise as much money as we possibly can.
"The midnight walk is easy for people to do; it's not like having to run a marathon. You get to dress up in your pyjamas and spend a night with your friends, walking through Barnsley and helping to raise money for this fantastic place."
Please visit our website for more information or to book a place on the One Night in a Onesie midnight walk.
Watch Steph's video to hear more about her reasons for supporting us, and why she is urging you to get involved in our 'midnight walk.'