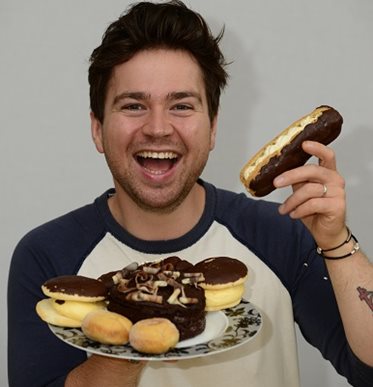 Posted 30 August 2017
Sam Nixon will launch our second Big Barnsley Bake Off when it returns to the town this September.
Sam is appealing to potential star bakers across Barnsley to get involved and help raise some 'dough' for the Hospice throughout September and October.
The fundraiser, which is being sponsored by White's Bakery Limited in Barnsley, follows this week's return of TV's The Great British Bake Off.
Sam Nixon of Pop Idol, Celebrity Masterchef and CBBC's Junior Bake Off fame, has remained true to his Barnsley roots and is supporting the launch of the Big Barnsley Bake Off for the second time.
We are urging individuals, schools, businesses and community groups in Barnsley to host their own tea party, cake sale, or bake off event to raise money for the charity.
As an added incentive for bakers, Sam will present the individual, school or business that raises the most money from their baking with a 'star baker' certificate. We have also introduced a 'show stopper' award for the most creative bake, also presented by Sam.
Sam said: "Barnsley Hospice is an amazing charity which has helped a lot of families in Barnsley. I'm really proud to be supporting the event for the second year, and I'd like to urge as many people as possible to get in the kitchen and start baking to raise money for this extremely worthwhile cause."
Bethan Gledhill, community fundraiser at Barnsley Hospice, said: "This is an exciting opportunity for people to show off their baking skills and get into The Great British Bake Off spirit to support the hospice.
"Every pound raised makes a real difference to the care we can provide for patients in Barnsley. Raising just £26 towards the Big Barnsley Bake Off could help towards one hour of exceptional care on our Inpatient Unit."
This year, local confectionary business Oh Fudge UK is donating all profits from the sale of its chocolate orange fudge to the Hospice during September and October.
Anyone interested in getting involved or holding their own tea party, cake sale or bake off should contact Bethan Gledhill on 01226 323613 or email bethan.gledhill@barnsley-hospice.org.
Barnsley Hospice is based in Gawber and provides specialist care for anyone in Barnsley with a life-limiting illness, including cancer, motor neurone disease and heart disease. It has ten beds for inpatient care and provides day care at the on-site Limes Support and Therapy Centre.