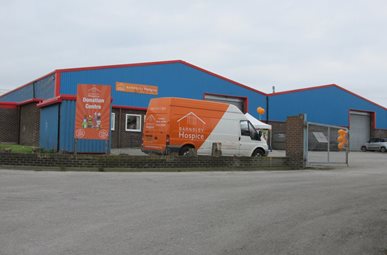 Posted 3 February 2017
The Hospice donation shed, will be relocated to Dodworth from Tuesday 28th February 2017.
The donation point will move to the Hospice Donation Centre in Dodworth, situated at Fall Bank Crescent and open Monday to Saturday from 9.30 am to 3.30 pm.
Moving the shed away from the Hospice will help to improve safety for patients and those working at the Hospice following a number of attempted break ins. The Donation Centre offers a more secure location to drop off items and has a large carpark.
Barnsley Hospice Finance Director, Ian Muffett said "I would like to thank everyone who chooses to donate to Barnsley Hospice, this helps to make a real difference."
On 3rd April 2017 the Donation Centre will also open it's doors to two new shops selling bridal/occasional wear and entertainment including vinyl, CDs, books and DVDs. This will give supporters the opportunity to shop and donate at the same time.
The Hospice Donation Centre address is Unit 16, Fall Bank Industrial Estate, Fall Bank Crescent, Dodworth, Barnsley, S75 3LS.