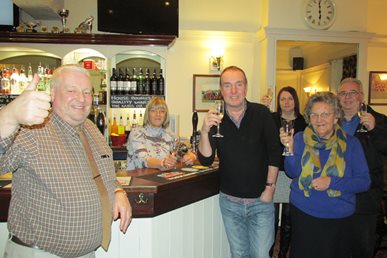 Posted 20 January 2017
Customers and staff at Tom Treddlehoyle celebrated raising £1,356 from their Christmas raffle for Barnsley Hospice. Throughout December they raffled a giant luxury hamper filled with goodies from Raisthorpe Manor.
The pub have been big supporters of the Hospice over the years and were keen to do something special at Christmas.
Landlady Marilyn Johnson said: "Our customers have really got behind the raffle and some of them have spent £50 or more on tickets! We are thrilled to have raised such a fantastic amount."
The fabulous prize was won by Joanne Mann who said "I've never won a prize before and I'm very pleased, it's a lovely thing to happen."
Barmaid, Mary Robertson said "We have seen so many of our customers affected by cancer and who have needed care and support from the Hospice. It's a great cause and one that is very close to our hearts."
Barnsley Hospice helps hundreds of families every year throughout Barnsley who are affected by life limiting illnesses. Without the help of the local community, the Hospice would not be able to provide specialist compassionate care and support for the patients who need essential end of life care.
Photo L-R: David Johnson, Marilyn Johnson, Seamus English, Dawn Jenkinson, Vera Mawby, Mick Fulham.