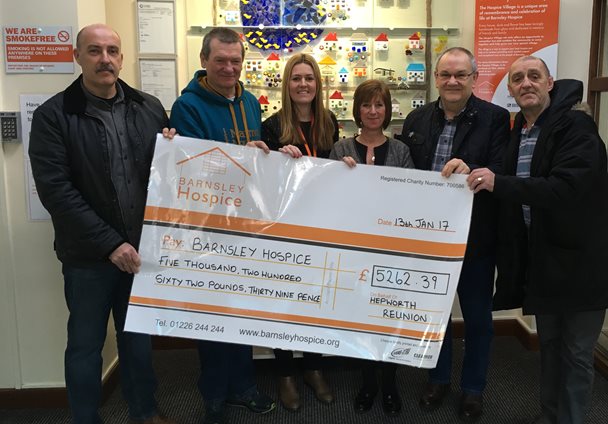 Posted 15 January 2017
Workers and former colleagues of Hepworth Pipes near Penistone organised the 'Hepworth Reunion' and raised £5,272.39 for Barnsley Hospice in memory of their former work mate Steven Rusdale, who died of cancer last year.
The money raised is £10 more that shown on the cheque as a donation of £10 came in after the presentation.
Ian Robinson who organised the event with Dave Hutch said: "Steve was such a popular chap that we decided to honour his name by dedicating this year's charitable effort to Barnsley Hospice who took great care of him."
They had a raffle with more than 60 prizes donated by Barnsley and Penistone folk, which ranged from meals at local pubs to beauty treatments. There were even tickets for Strictly Come Dancing, signed football shirts from Newcastle United and Barnsley.
Ian said: "How fantastic that people can show such a community spirit of humanity and compassion, I am truly overwhelmed."
A very big Thank You to all who were involved from everyone at Barnsley Hospice.
Pictured L-R: Richard Horsfield, Ian Robinson, Sam Silverwood, Lynn Rusdale, Terry O'Neill, Dave Hutchings