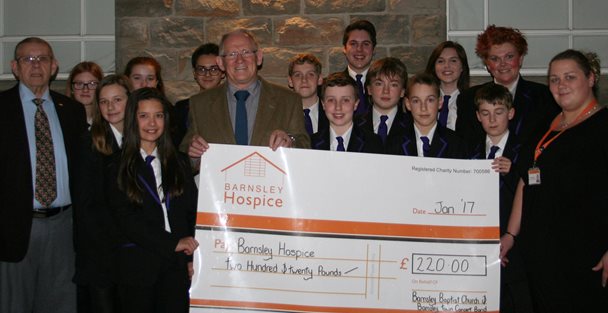 Posted 9 January 2017
Barnsley Baptist Church and Barnsley Town Concert Band held a Sing Christmas Concert at the Church in December to help raise funds for the Hospice and raised a total amount of £220.00 through collection and refreshments.
Thanks to Morrison's and Tesco Stairfoot for donating Mince Pies as refreshments after the Concert.
Photo shows Pastor Ken Jefferson, Alan Toon and Members of the Barnsley Town Concert Band presenting a cheque to Sarah Hattersley Community Fundraiser from the Barnsley Hospice.
Pictured L-R: Alan Toon, Poppy Westrop, Lucy Collins, Sophie Walker, Olivia Smith, Stirling Trent, Pastor Ken Jefferson, Elliot Jones, Jack Haigh, Ben Waller, Andrew McDonald, Hugh Mackie, Hope Geraghty, James Fryers, Toni Walton and Sarah Hattersley.