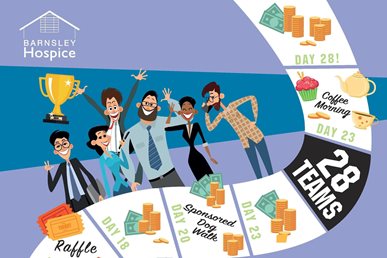 Posted 6 January 2017
Looking for a challenge in 2017? Want to make a difference and have fun? Grab your mates and get a team together for the Barnsley Hospice Accumulator Challenge.
During the 28 days of February we will be throwing down the gauntlet and encouraging teams to generate as much profit as they possibly can from an initial stake of £28. The teams will consist of up to 6 people and can do pretty much anything they like to raise money, as long as it is safe and legal. The challenge starts at 8am on 1st February and ends at 6pm on 28th February and only fundraising taking place within this period will be counted.
The challenge will conclude with an awards ceremony to celebrate the achievements of the teams taking part, with prizes for the most profitable team and also for the most innovative fundraising idea.
Sue Miller, Fundraising Manager at Barnsley Hospice said: "The New Year brings new challenges and we are really excited to introduce a completely new event. I can't wait to see what the teams will come up with! They could try something completely different or they may stick to the traditional tried and trusted, we just want everyone to have some fun. We already have some teams signed up but hope that lots more want to get involved. This is a fantastic team building exercise for local businesses or may just appeal to a group of friends. It's also a great opportunity to 'accumulate' vital funds for Barnsley Hospice."
Places are filling up fast so please contact Sue Miller on 01226 323622 or email sue.miller@barnsley-hospice.org to register now.
Registration closes Monday 30th January 2017.