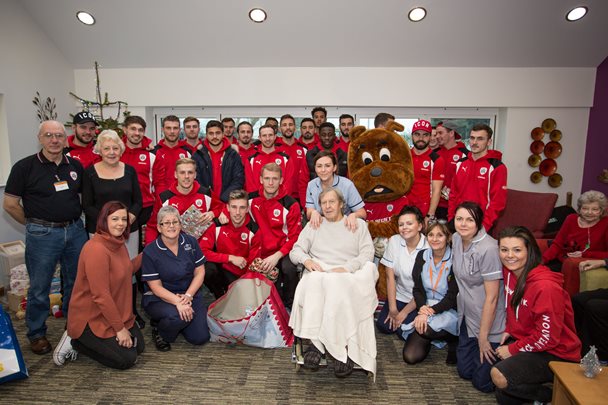 Posted 21 December 2016
Paul Heckingbottom and the entire Reds first team squad today visited Barnsley Hospice to spread a little Christmas cheer and to launch a new charity partnership.
The players took some time out after training to meet patients and carers at Barnsley's specialist care provider and launched a new partnership which will see the Club support a charity which is close to the hearts of people across the Barnsley borough.
The partnership sees Barnsley Hospice and Barnsley Football Club work together to help raise awareness and funds for the Hospice to provide specialist compassionate care to patients and their families in Barnsley. The Football Club today made a substantial donation to the Hospice which has allowed the Family Team to purchase items for them to use with children who have friends and relatives at the Hospice. This includes resources to help children express their feelings and be able to make memory boxes for them to keep.
The team also gave Christmas gifts to patients and spent time with them and their families. The Hospice team took time to show the players around and helped them understand how hospice care makes a real difference to patients.
Reds Head Coach Paul Heckingbottom, commenting at Barnsley Hospice said "It's a real honour and a pleasure to be here today and we're delighted to show our support for an incredible charity which is at the heart of our community. As a Football Club we're committed to supporting various charitable causes and there is no charity worthier of support than Barnsley Hospice. The care that the staff provide for patients and families is heart-warming and we as a Club are proud to support the work that they do. We've really enjoyed the visit today so I'd like to say a big thank you to all the staff at the Hospice who have made us feel very welcome. They work tirelessly throughout the year to provide support to those in need and they are a credit to the town.
"We know just how important the Hospice is to our fans, so through the new partnership we hope to make a real difference and generate funds which will allow the Hospice to improve vital equipment and facilities. We're calling on all our supporters to get behind the campaign and donate where you can."
The Barnsley Hospice team have to raise over £2m per year to stay open. Through the partnership we are hoping to raise much needed funds with the help of our fans. Our first big project is to support a fundraising campaign and raise money to provide new TVs for all ten patient bedrooms on the Inpatient Unit at the Hospice. Fans can help us reach our fundraising goals by visiting https://www.justgiving.com/campaigns/charity/barnsleyhospice/tvappeal where you can make a donation towards the new equipment.
Barnsley Hospice Chief Executive, Julie Ferry said: "We are delighted that Barnsley Football Club have chosen Barnsley Hospice as a charity partner. We have always been very grateful for the support we have received from the Club and are looking forward to developing our relationship further."
Barnsley FC and Barnsley Hospice have been working closely for many years and regularly join forces to support an invaluable service to our community. Players have previously been to meet patients at the Hospice on regular occasions and have donated signed merchandise as well as launching a joint partnership with the Football Club's own charity, Reds in the Community.
We are now looking forward to the next phase of our relationship through the launch of our official charity partnership. Please show your support and appreciation for what is a very worthy fundraising campaign.
Find out more about the work of Barnsley Hospice at https://www.barnsleyhospice.org/home.aspx