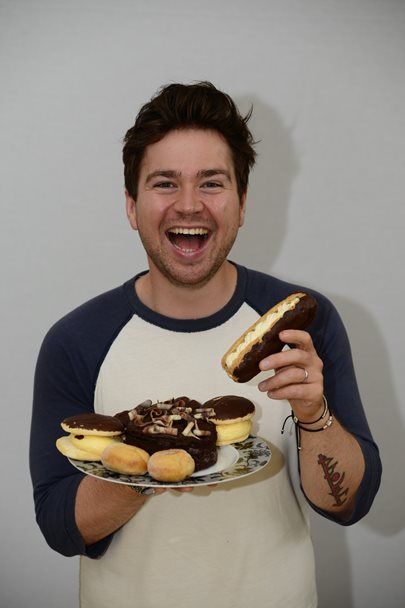 Posted 15 July 2016
Sam Nixon has launched Barnsley Hospice's 'Big Barnsley Bake Off' at Royston St John's The Baptist Primary School. He is appealing to potential 'Master Bakers' young or old to get involved and help raise some 'dough' for Barnsley Hospice.
This is an exciting opportunity for people to show off their baking skills with friends, family and the local community to raise money for a local charity.
Sam Nixon of Pop Idol, Celebrity Masterchef and CBBC's Junior Bake Off fame, has remained true to his Barnsley roots and proudly helped Barnsley Hospice launch its exciting Big Barnsley Bake Off campaign.
As an added incentive to raise some dough, Sam will proudly present the individual, school or business that raises the most money from their baking with a Master Baker Certificate.
Royston St John's The Baptist C of E Primary School have been one of the first to pledge their support to raising funds through the campaign and are busy planning an event for September.
Barnsley Hospice Assistant Fundraising Manager, Sam Silverwood said "Our care is free for patients and their families but not free to provide. We couldn't do what we do without the help and support we receive from our local community. Every pound raised makes a real difference to the care we can provide for patients in Barnsley. Raising just £26 in your Big Barnsley Bake Off event could help towards one hour of exceptional care on our Inpatient Unit. We are appealing to all individuals, groups, schools, and workplaces to get involved and bake for Barnsley Hospice".
Anyone interested to get involved and hold their own tea party, cake sale or bake off in September should contact Sam Silverwood on 01226 323626 or email sam.silverwood@barnsley-hospice.org