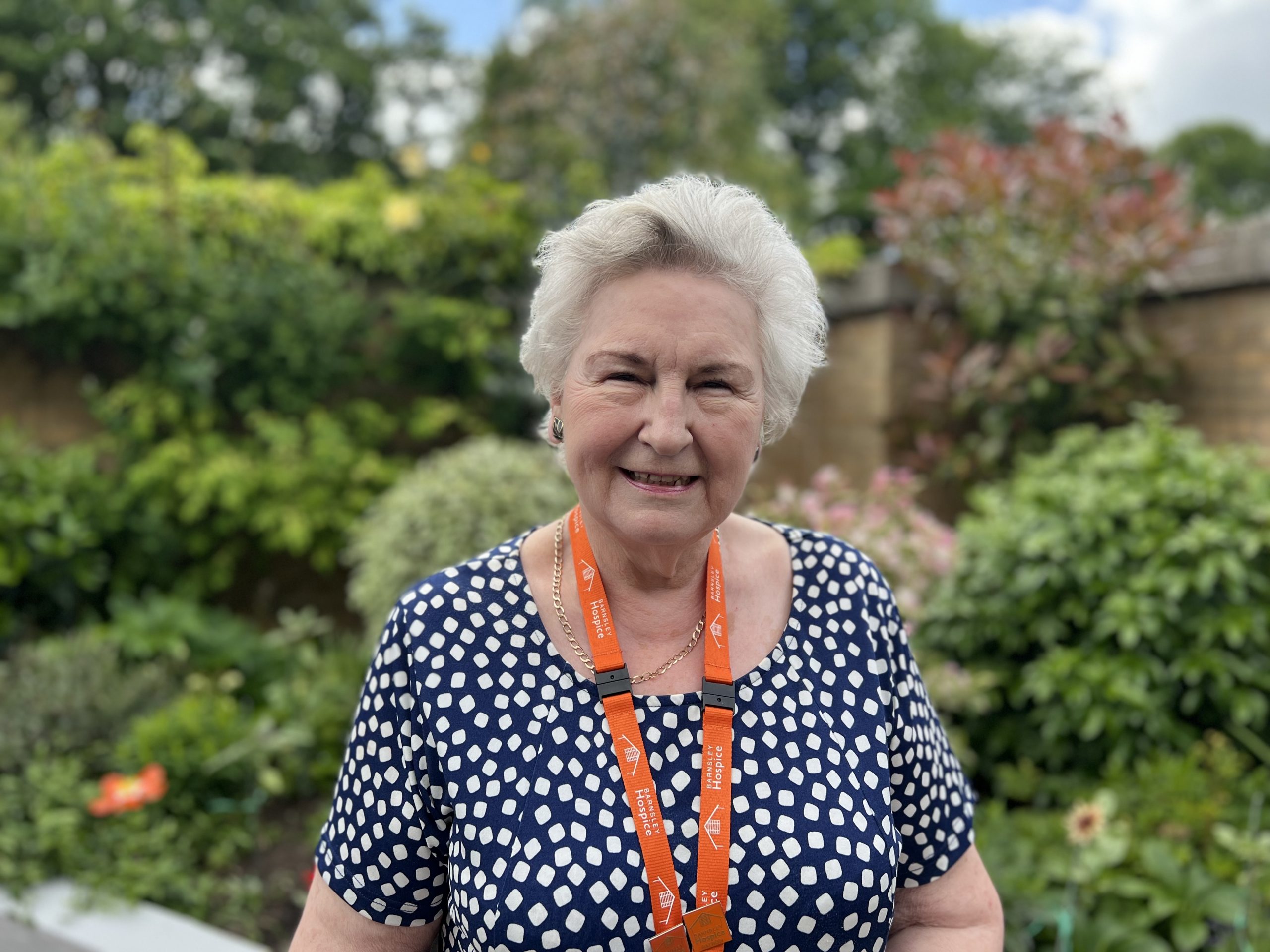 Posted 6 June 2022
Jean Thompson-Banks, 78, has reached her 28th-anniversary volunteering at the hospice. To celebrate this incredible milestone, we got together with Jean to learn more about her story.
How did you begin volunteering at the hospice?
It was around February/March time in 1994 when I attended a talk by the hospice Matron, Ann Vaughn, was holding at the Town Hall. I was due to retire in a couple of months after working for 30 years at Barclay's bank, and I was looking for a way to fill my time.
When Ann was delivering the talk, the building of the hospice was complete, but it wasn't open to patients yet. Hearing how the hospice was going to help the local community struck a chord with me, and I signed up there and then!
What volunteering roles have you undertaken over the last 28 years?
When I first began volunteering, it was only a couple of weeks after I had finished work. I initially took up a role in Reception whilst also joining the other volunteers in raising funds for the hospice. There wasn't a Fundraising team at the time, you see!
It soon became clear that some patients were struggling to get transport to the hospice [there was only a Day Hospice service at that time], so a 'volunteer driver' scheme was established. My role was to coordinate the volunteer drivers and plan a route for them to collect and drop off patients at the hospice.
This role was how I met my late husband, Malc, who had just joined the hospice as a volunteer driver.
Now that we no longer have a volunteer driver scheme, my role is to support the Fundraising team. Each Friday, I ring around our Events volunteers and let them know the upcoming events we have planned, ensuring we have enough team members present at each event.
Do you have any special memories of volunteering at the hospice?
Without a doubt, meeting my husband Malc is the most important thing that has come from my time volunteering at the hospice. When we got married, some of our hospice colleagues shared the day with us as they have been a big part of our relationship.
I have also had many fun memories at the hospice, most notably dressing up as a duck one Christmas Eve!
Being part of the hospice's 15th, 20th and 25th anniversary celebrations also really stands out. It is such a privilege to be a part of something so amazing.
I truly have enjoyed every minute of volunteering at the hospice, and I look forward to the years to come!
What three words would you use to describe volunteering at the hospice?
Fun. Friendship. Fulfilling.
We would like to say a huge congratulations to Jean for her 28 years of service. Her contribution to the hospice is immeasurable, and we are incredibly proud that she is part of #TeamHospice.