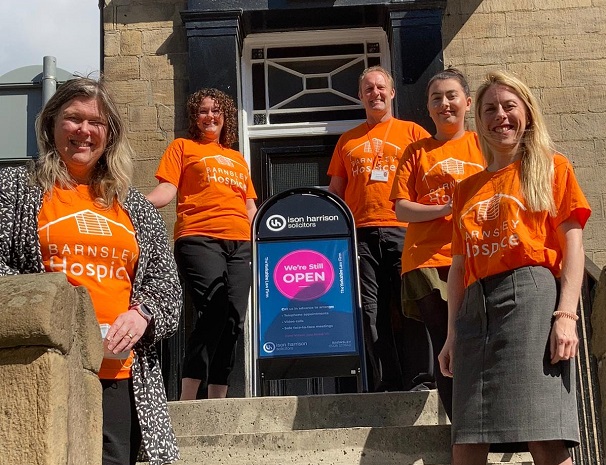 Posted 20 May 2021
Energetic employees of a local law firm will be enjoying a weekend walk around Worsbrough country park in aid of Barnsley Hospice this weekend.
Ison Harrison colleagues and their families will do their sponsored walk around Worsbrough Mill on Saturday (May 22nd). Look out for them as they will be swinging bright orange buckets for your donations too!
The walk is their latest fundraiser in support of our charity. The law firm opened its Barnsley office in 2019 and since then has been a massive supporter of the hospice.
They have sponsored our Christmas Trees, run office raffles, held a Bargain Hunt-style auction and joined other local solicitors in giving their time free-of-charge during our important 'Make a Will Month' fundraiser.
This month's walk is part of their efforts for this year's 'Accumulator Challenge' which pits Barnsley businesses against each other to raise as much money as they can for the hospice in a month (for fun – and for a coveted trophy!).
The solicitors striding out at Worsbrough will also use their walk to clock up some miles for their 2021 #yorkshirelawfirmchallenge. This involves all 15 Ison Harrison branches walking thousands of miles to both keep fit and raise thousands of pounds for five charities including Barnsley Hospice. So the fundraising goes on! This challenge is inspired by Welcome to Yorkshire's #Walkshire campaign which encourages us all to get out and about in our beautiful countryside.
Dan Kenworthy, Branch Manager at Ison Harrison, based in Regent Street, said: "Our Worsbrough Walk will raise money directly for the hospice and also help our staff add some miles to their running total for our #yorkshirelawfirmchallange. Ison Harrison is committed to supporting local communities and supporting our staff's well-being and this event achieves both.
"We are very pleased to support a charity like Barnsley Hospice which does such good work for so many people in the borough and relies on donations to keep going."
Barnsley Hospice corporate fundraiser Simon Atkinson said: "Ison Harrison are a great supporter of the hospice and highly-valued for their regular contributions. And it's not just money – important though that is. Last Christmas they provided a full Christmas dinner and hamper of treats for the family of a patient. Their fundraising and thoughtfulness are always amazing."
To find out about how your business can support Barnsley Hospice email simon.atkinson@barnsley-hospice.org.uk or call 01226 244244.