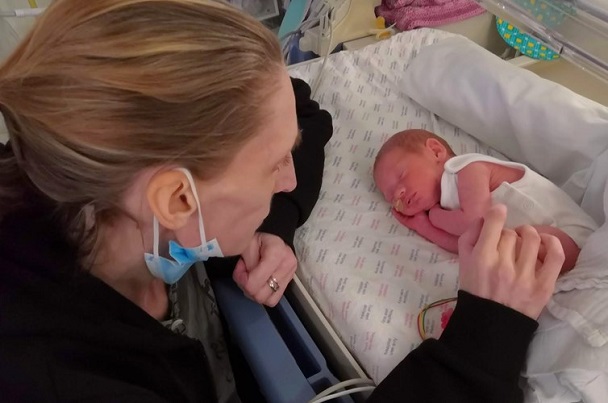 Posted 7 May 2021
Words can not express how privileged we feel to have been part of the team of NHS and charity organisations to support Hannah and her family.
Please see the Just Giving page in her memory here:  https://www.justgiving.com/crowdfunding/hannahsfinalwish?utm_term=vkQrVqRGN&fbclid=IwAR1LkmQ-Z7xJRqEExSLyQb10M1F_uKqU8OiI-W3eHz6Fz0Tu-vDCgC7ghV4
Thank you to the media for their sensitive coverage of Hannah's story and her final wish to give back to all the organisations that supported her and her young family:
https://www.thestar.co.uk/news/people/one-in-a-million-tragedy-as-south-yorkshire-mum-loses-cancer-battle-seven-weeks-after-birth-of-daughter-3225856
Here is an excerpt from her story:
"Shortly after this Hannah was moved to Barnsley Hospice, a place nobody ever wants to be, but somewhere we have only ever heard praise about. Well, that opinion is not wrong. The staff are out of this world and provided Hannah, and the entire family with the most heartwarming care and compassion you could believe. Hannah talked to them about many things, one of them being how sad she was at the thought of never seeing the sea again, so they arranged for her to go to a beach, and the charity The Ambulance Wish Foundation facilitated a trip to Scarborough, where Hannah, Andrew and Jude got to spend the day at the seaside and make some cherished memories.
"When Hannah was moved to the hospice, baby Sadie was also moved to Barnsley Neonatal Unit for her care to continue as closely to her mum as possible. The neonatal unit had never experienced such a case. They pulled out every stop to ensure that Hannah could have as much time as possible with her little girl, transporting Sadie daily by ambulance to the hospice for visits."
Our aim is to work with our partners to provide comfort, care and dignity to patients and their loved ones in their time of need. Everyone at the hospice sends their heartfelt condolences to Hannah's family and friends.