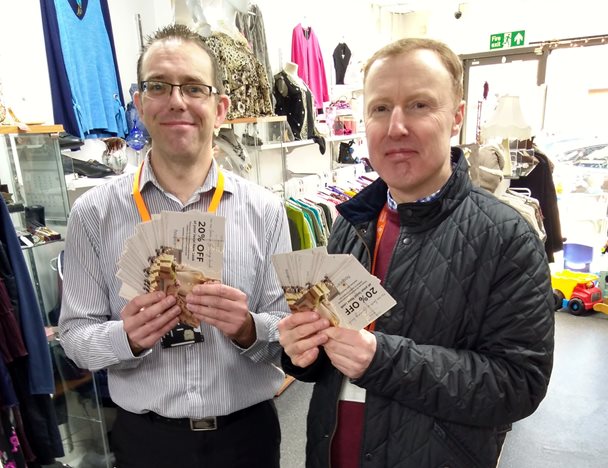 Posted 3 December 2019
Christmas shoppers can receive a voucher for high street fashion store New Look this festive season when they donate a bag of clothes to the hospice.
New Look on Cheapside in Barnsley Town Centre has partnered with our charity shop on Eldon Street to offer a 20 per cent discount voucher for shoppers who donate a full bag of unwanted clothing to the Eldon Street shop.
The promotion will run until Monday 13 January 2020, excluding Christmas week when the shop will be closed from 25 December to 2 January.
It's all part of New Look's national partnership with Hospice UK to encourage people to donate their pre-loved clothes so they don't end up in landfill. Our shop on Eldon Street is one of over 200 charity shops taking part in the programme across the UK.
Stephen Hatfield, retail manager at the hospice, said: "We're thrilled to be working with New Look on this fantastic initiative to inspire shoppers and encourage footfall at our Eldon Street shop. We are always on the look-out for quality items, and all we ask is that you please make sure that the pieces you'd like to donate can be resold and loved again."
Nigel Oddy, chief executive officer at New Look, said: "As a company, we really care about being kind to our people and to our planet, therefore we want to make it easy for our customers to recycle their unwanted clothes whilst helping to reduce the amount of clothing waste that ends up in landfill.
"New Look is very excited about this partnership with Hospice UK to encourage our customers to donate their once loved clothes to their local hospice shop."
In 2019, sales have continued to grow across our charity shops. Stephen said: "We hope this promotion will help increase the spend in our shops even more over the Christmas period and into the New Year and increase our donations at the same time."
We have six hospice shops: at Hoyland, Penistone and Cudworth, and three in the town centre. A donation centre at Dodworth acts as a drop-off point and warehouse, and houses three retail outlets selling electricals, clothes, DVDs, CDs, vinyl records and books.