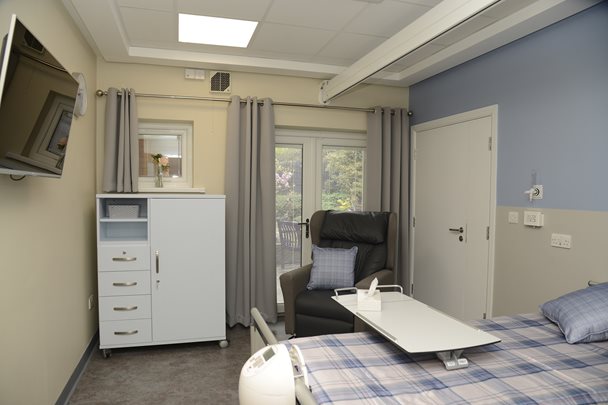 Posted 12 June 2019
A major project to transform the hospice's in-patient unit has been completed.
All ten bedrooms, and communal areas including the bathroom and corridors, have been refurbished to provide a more comfortable, calm experience for patients and their families.
The bedrooms have specialist beds to improve patient comfort, furniture and décor to create a peaceful and homely environment, and new doors and windows with integral blinds that create a much lighter and brighter space.
Each room has piped oxygen and mood lighting along with large-screen smart televisions, and wireless headphones to enhance the patient experience. They also have new en-suite wet rooms or wash rooms, air conditioning and new flooring.
A designated overnight stay facility has also been added to the in-patient unit, which is now available for family members to use as and when needed.
Work began in October last year and took place over four phases to allow in-patient unit services to continue. The unit is now fully open, and the hospice is welcoming patients to the upgraded facilities.
The refurbishments cost £500,000. A grant of £300,000 was received from the Morrisons Foundation, the charitable arm of the Bradford-based supermarket chain, and rest was made up of grants from other charitable trusts and donations from the Barnsley community.
Our CEO Julie Ferry said: "Our aim is to ensure patients are as comfortable as possible when they stay with us, and these upgraded facilities allow us to deliver the highest standards of care. It's important for families to benefit from a home-from-home environment that provides real comfort during difficult times. We are immensely grateful to the organisations and individuals who helped to fund this transformation project."
This is the first time the bedrooms have been fully refurbished since the in-patient unit opened in 2001.
Barnsley-based building contractors CD Potter and Sons were appointed to carry out the work.
A ceremony to officially launch the upgraded facilities will be held in July, as part of the hospice's 25th anniversary celebrations.