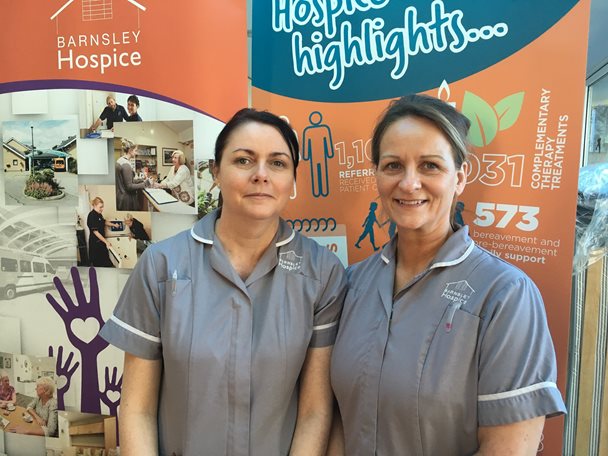 Posted 28 February 2019
People living with the medical condition lymphoedema are benefitting from a special service provided by the hospice.
The lymphoedema self-management and support service helps treat symptoms and provides an opportunity for patients to meet others in a similar situation.
The hospice is promoting its services to coincide with the national Lymphoedema Awareness Week which takes place 3-9 March.
Lymphoedema is a long-term condition that causes swelling in the body's tissues. It can affect any part of the body, but usually develops in the arms or legs. It develops when the lymphatic system doesn't work properly, which can be a side effect of cancer surgery.
Following a referral to the self-management and support service, the specialist team at the hospice carry out an assessment and agree a treatment plan – which can include massage to drain fluid, compression, specific exercises and skin care.
Group sessions run every Monday from 9.30am to 12.30pm and one-to-one treatments are also available.
Heike Fraser, therapy team leader at the hospice, runs the service with the support of lymphoedema specialist Sharon Schofield and lymphoedema healthcare assistant Dawn Jenkinson.
Heike said: "Lymphoedema is much more than a bit of swelling and there's a lack of awareness about it in general. As far as we know, this is the only specialist service of its kind in Barnsley for patients with cancer and non-cancer related lymphoedema.
"Not everyone comes to the sessions for treatment; many come for the conversations. People seem to really benefit from that peer support. Lymphoedema is incurable but we try and bring patients to the best manageable level and empower them to self-manage their condition."
Ann Hamblen, 70, from Crane Moor in Barnsley, is affected by lymphoedema in her right arm – a result of an operation to remove her lymph nodes following a diagnosis of inflammatory breast cancer.
She visits the lymphoedema session at the hospice each week to use a machine which delivers a massage to relieve fluid build-up.
Ann said: "It really does help. I get my best night's sleep of the week after I've been here. The treatment takes just half an hour but I also like to sit around and chat with other people. Lymphoedema affects everyone differently so we all share our experiences. The social side is an important part of coming. We're all in the same boat. I've bonded with the other people and it's really very precious time when I'm there."
Jacqui Graham, 53, from Monk Bretton, has been using the service for two years. She has lymphoedema in her left upper arm.
Jacqui added: "The treatment means I can carry on working and carry on with normal day-to-day life. I was mortified when the word 'hospice' was first mentioned to me as I had no idea what else they did apart from the in-patient unit. The treatments have made a massive difference. It's great to chat to other people at the sessions and we all have a bond."
To find out more about the lymphoedema self-management and support service, call 01226 244 244. Referrals must be made from a healthcare professional.