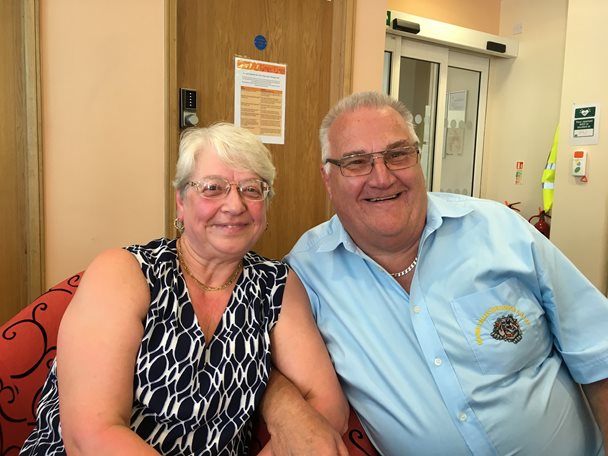 Posted 20 June 2018
Long-serving Barnsley Hospice volunteers have been thanked at a special ceremony to recognise their dedication.

Over 40 volunteers, who together have amassed over 300 years of service, were presented with certificates by the Mayor of Barnsley, Cllr Steve Green.

Long-serving staff were also recognised, and the evening event at The Limes Day Therapy Unit also provided a chance for volunteers and employees to enjoy time together in an informal setting.

The volunteers who were recognised give their time in a wide variety of roles, including in the hospice itself, across our seven charity shops and at fundraising events.

Lynn and Alan Jones were two of the volunteers presented with awards. The couple, who live on Church Street in Elsecar and have been married for 47 years, volunteer together at the hospice Donation Centre in Dodworth. Alan began donating time to the hospice 13 years ago, and his wife joined him four years later.
Lynn, 67, said: "Volunteering gave me a focus when I retired, and I enjoy the company and meeting other people. We've both made friends with the others we work with at the donation centre. We feel very valued as volunteers and this award shows the hospice appreciates what we do. It's lovely to be recognised like this."

The hospice has over 270 volunteers on its books and in just one year between April 2017 and March 2018, they donated 30,438 hours of time.

Julie Ferry, chief executive of Barnsley Hospice, said: "We are blessed to have such a dedicated team of volunteers and staff and it's important that we show them how important they are. We appreciate every single one of them, not only the ones presented with certificates last week.
"As a charity the hospice simply could not survive without the generosity of others, and whether that's through donating time or money, it makes a massive difference to the patients and families we care for."
To find out more about volunteering, including the roles available, contact Barbara Cronin on 01226 323616 or at barbara.cronin@barnsley-hospice.org.