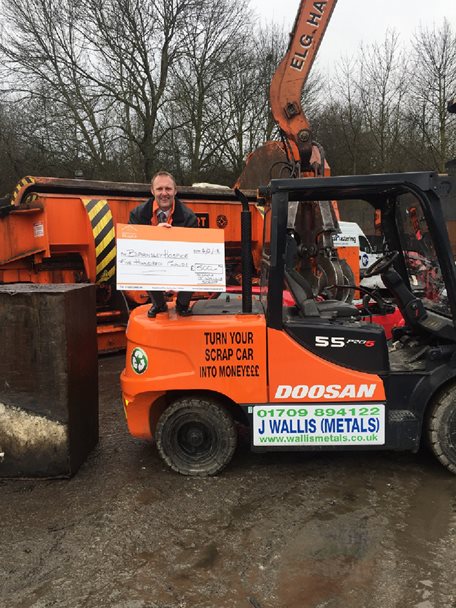 Posted 14 February 2018
A Thurnscoe scrap merchant has turned bangers into bucks for the hospice.
J Wallis Metals raised £500 by donating £5 from every old car they scrapped in the run-up to Christmas – and the scheme proved so successful they have pledged to continue it through the year.
Owner James Wallis, who ran a radio campaign to promote the offer, said: "The response from the people of Barnsley has been great, which is why we've decided to carry on donating money for every car we get. Not only will customers continue to get top price for their scrap cars and vehicles, but they'll be doing their bit for Barnsley Hospice too."
Simon Atkinson, our corporate fundraiser, collected the donation from the J Wallis Metals yard on Nicholas Lane. He said: "This is a great example of an organisation thinking a bit differently to boost business at the same time as raising money for charity. We're really grateful to J Wallis Metals and its customers, and it's great news that the initiative is set to continue."