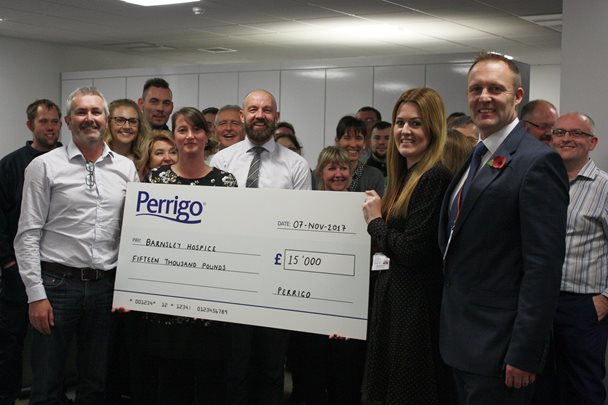 Posted 8 January 2018
Perrigo plc has donated £15,000 to our Comfort and Care campaign.
Perrigo is a leading provider of medicines and healthcare products in the UK and Ireland and has a base at Elmhirst Park in Barnsley.
The £15,000 donation will go towards transforming inpatient bedrooms as part of our Comfort and Care appeal. The appeal was launched by radio and TV presenter Stephanie Hirst in November and aims to raise £200,000 to transform ten inpatient bedrooms to a luxury standard.
The planned improvements will include new specialist beds, furniture, flooring and décor, and will help patients and their families feel more comfortable and relaxed during their stay – whilst also providing a peaceful and homely environment.
Julie Ferry, our chief executive, said: "We can't thank Perrigo enough for this gesture of goodwill. We are only a month into the campaign and have already seen a great deal of support amongst local businesses. We now need as many people as possible to get behind the appeal so that we can provide a home from home for patients and their families."
Neil Lister, managing director, Perrigo UK & Ireland said: "The work of Barnsley Hospice is much appreciated by patients and their families, and can make a dramatic difference to individuals at a difficult time in their lives. We are delighted that our Barnsley employees chose to support this very worthwhile cause that contributes to Perrigo UK's mission in making a difference to health."
A fundraising page has been set up to encourage donations to the Comfort and Care campaign. Visit http://bit.ly/2ADsmKB or for more information.