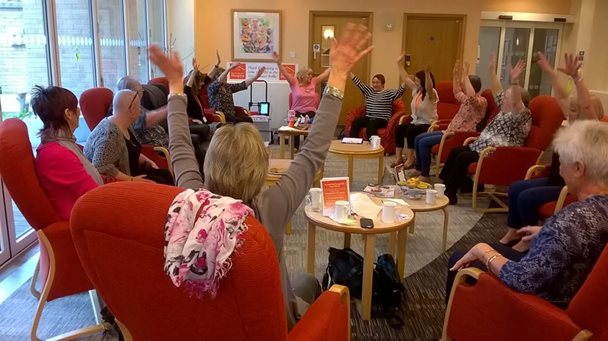 Posted 7 September 2017
Barnsley Hospice has been shortlisted for the instore vote in Tesco's Bags of Help initiative – and we need your help to win!
Bags of Help is Tesco's community grant scheme where the money raised from the 5p bag charge is used to benefit local charities and projects.
Shoppers are asked to vote for the cause they care about most, and if enough people drop their blue tokens in our box after completing their shopping, we may be able to receive funding to provide a whole year of patient 'Feel Good' sessions in The Limes Day Therapy Unit (pictured left).
The schedule of regular activities will include chair exercise, music therapy, craft activities, hair and skincare and colour therapy – all designed to boost wellbeing.
Voting is open during September and October 2017 at:
• Tesco Superstore, Hoyland
•

Tesco Express, Huddersfield Road, Wilthorpe
If you shop at either store (or can make a detour to do so!), simply ask for a blue token at the checkout and drop it in our box on your way out.
As Tesco say themselves, 'every little helps' and your vote can help make a big difference to the patients we care for.
Please help us spread the word – and get voting!