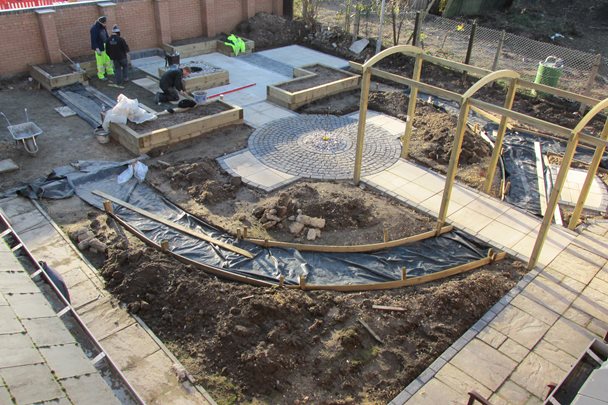 Posted 14 October 2016
Barnsley Hospice is set to transform their Inpatient Unit garden into a tranquil and relaxing place for patients and their families.
Local company, The Vital Element (UK) Ltd have now started the project to transform the previously lawned area into a stunning garden where patients and their families can enjoy the outside space.
The IPU garden design was finalised based on feedback received from staff, volunteers, patients, their families and visitors to ensure it would meet the needs of everyone using the garden.
Deputy Patient Services Director, Bev Hewitt said "We are really looking forward to seeing the finished garden and it being a place where patients and their families can relax and enjoy their surroundings. Being outside, especially in the summer, can be very relaxing and therapeutic for our patients and we are very grateful to all involved to make this happen so that all our patients be able to benefit from it."
The Hospice Inpatient Unit garden has been kindly supported and funded by The Liz & Terry Bramall Foundation and Wakefield & District Health and Community Support Ltd.
The gardens at Barnsley Hospice are maintained by volunteer gardeners who have won the Gold Medal several times at Yorkshire in Bloom, including this year.