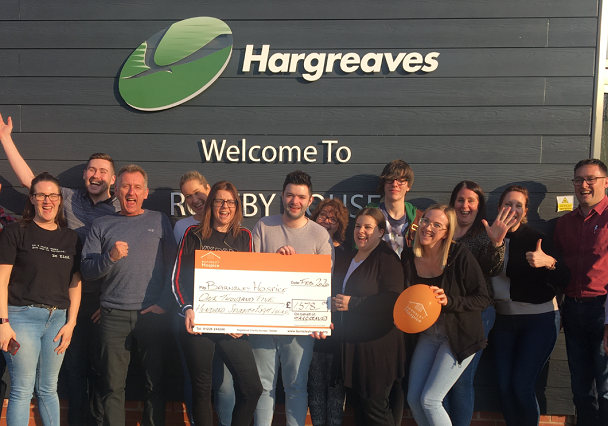 Posted 1 April 2021
* Photos from previous Accumulator Challenge (prior to Covid-19 restrictions) featuring Barnsley Norse and Hargreaves Industrial.
Barnsley businesses are invited to take part in an annual fundraising challenge to see who can make most money for the hospice – and have the most fun doing it.
Barnsley Hospice's 'Accumulator Challenge' is an Apprentice-style contest where teams compete to make the most profit they can, starting with an initial investment of just £30. The challenge runs throughout May.
There are prizes for the most imaginative fundraising activity as well as the most money raised and many companies join this annual event to boost team spirit and enjoy a little rivalry with neighbouring businesses as well as support the hospice.
Barnsley Hospice corporate fundraiser Simon Atkinson, aka 'Lord Sweetner', said: "This year, more than ever, we want the Accumulator Challenge to be an opportunity for workforce teams to come together and have a bit of morale-boosting fun. We hope local businesses, who have seen so much disruption over the past 12 months, will be able to arrange outdoor or online activities which suit them to raise money and lift spirits. There is no pressure and teams can do as much or as little as they like. Every bit of money raised is appreciated and goes towards covering the costs of running Barnsley Hospice."
Businesses may organise big events such as a sponsored walk, golf, tennis or bowls tournament or an online quiz. Or they may run a series of fundraisers throughout the month such as bake sales, frisbee throwing contests or car washes. In previous years, the accumulator has raised thousands for the hospice.
Already signed up for this year's challenge are XPO Logistics, Hargreaves Industrial Services, Barnsley Norse, Sally's Glitz and Glam, Pentagon Motor Group, Minx Consulting, Brook Corporate Developments, Barnsley Business Village, The Closet Queen and Darton Arrow.
To enter the Barnsley Hospice Accumulator Challenge, contact simon.atkinson@barnsley-hospice.org or call 01226 244244.