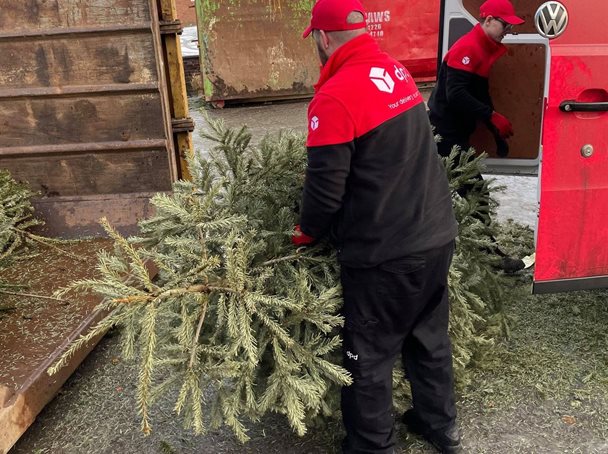 Posted 19 February 2021
MORE than 370 trees were collected and more than £7,500 was raised through our recent Barnsley Hospice Christmas Treecycle scheme.
We'd like to thank everyone who signed up to our post-festive fundraiser and gave us a donation to collect their tree after the decorations came down. These donations raised just over £4,000 and this amount was almost doubled by DPD who gave us a very generous £3,500-plus* on top of that.
D&D Couriers of Barnsley, our local DPD company, collected the trees from outside people's homes on Sunday January 10th and Shaws Waste Recycling provided the necessary skips and disposed of the trees. Both companies gave their services free of charge and we'd like to thank them for their much-valued support.
Barnsley Hospice Christmas Treecycle 2021 will be launched later this year – look out for details on social media from late October. For a minimum donation of £10 we can arrange to collect your tree on our Treecycle Sunday in January. We cover the following postcodes S36, S63, S70,S71, S72, S73, S74, S75. Get the job done, get the tree disposed of in a green way and support your local hospice.
Don't forget Barnsley Hospice is a charity and we rely on donations to keep providing our specialist compassionate care for people with progressive and life-limiting conditions. Please contact our fundraising team on 01226 244244 or fundraising@barnsley-hospice.org if you would like to raise money for the hospice.
*exact DPD donation £3,681, thank you