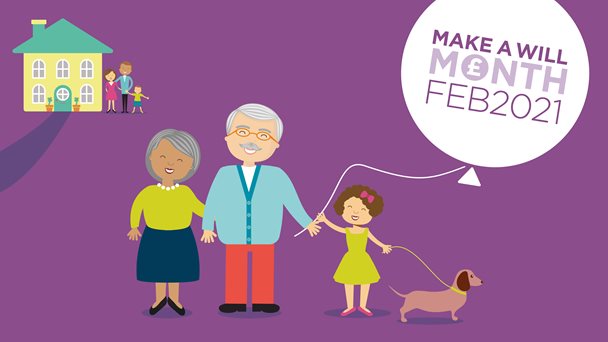 Posted 2 January 2021
People in Barnsley are being encouraged to make a Will during February as part of the hospice's Make a Will Month campaign.

Make a Will Month is an annual initiative by the hospice which takes place every February to help support patient care.

Several local solicitors will be offering their time for free by waiving their fees during the month in exchange for a donation to the hospice
Kay Bennett took part in Make a Will Month last year. She said: "When we realised that some Barnsley solicitors were participating in the hospice's Make a Will Month, it was just the nudge we needed to get on with updating our Will. It's so important to have a Will to ensure that your wishes are carried out and it also makes it so much easier for your family.
I have a long association with the hospice and support them when I can. It has been such a difficult year for fundraising, so I would urge everyone to make their will with a solicitor taking part in the scheme. I know that all donations will go direct to patient care and support for families."
The participating Barnsley solicitors are: Best Solicitors; Bury & Walkers LLP; Elmhirst Parker LLP; Ison Harrison Solicitors; Peace Legal Limited; Pennine Law Solicitors, and Wosskow Brown LLP.
Donations from Make a Will Month go directly to supporting patients and their families and are taken at the time of making a Will. Suggested minimum donations are £90 for a single Will and £175 for a pair of mirror Wills.

For more information on Make a Will Month 2021 please email janet.ohara@barnsley-hospice.org or call 01226 244244.
Please note that appointments must be made directly with the solicitor and that bookings for February are being taken from 4 January 2021 onwards. Each solicitor will be able to discuss how your appointment might take place – face to face, telephone or video call.
Solicitors will also advise you on how to make your donation (in lieu of a fee) direct to the hospice. If using the donation page on our website, please tell us the name of the solicitors' firm you went to in our information box. Thank you.