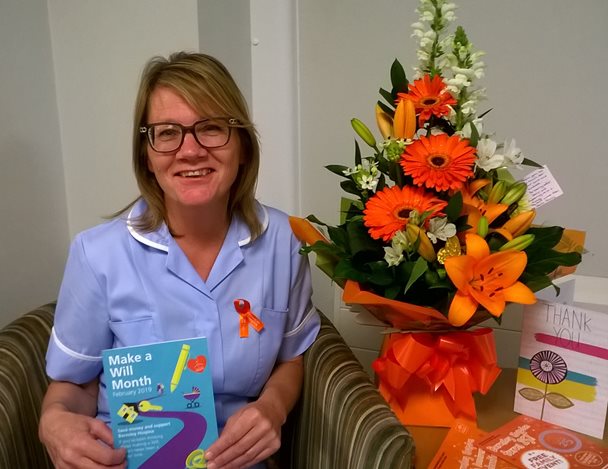 Posted 5 June 2019
The hospice has raised almost £10,000 from our annual Make a Will Month.
The initiative is now in its seventh year and sees four local law firms waive their fees during February in exchange for a donation.
The Barnsley solicitors who generously gave their time for free to the hospice this year are Peace Legal Limited, based on Barnsley Road in Wombwell, and Bury & Walkers LLP, Elmhirst Parker LLP and Wosskow Brown LLP, all based on Regent Street.
Julie Watts (pictured), 55, who lives in Penistone, is a healthcare assistant at the hospice and took part in this year's Make a Will Month. She said: "I'd realised that making my Will was something I had to do before it was too late and the hospice's Make a Will Month fundraiser was the ideal opportunity to do that.
"Through working at the hospice, I'm aware that the care our patients receive comes at quite a high cost and without people's donations and generosity we can't provide that care, so this is my own small contribution towards it."
Donations from Make a Will Month go directly to supporting patients and their families and were taken at the time of making a Will.
Janet O'Hara, grants, trusts and legacies fundraiser at the hospice, said: "I am delighted with the support we have had from people in Barnsley and the local solicitors, who kindly provided their time completely free of charge.
"Make a Will Month has proved popular because it provides a great opportunity to let your family and friends know your wishes whilst helping the hospice at the same time. The average cost of making a Will is also significantly more than the minimum donations we suggested, meaning you could actually save money whilst supporting the hospice."