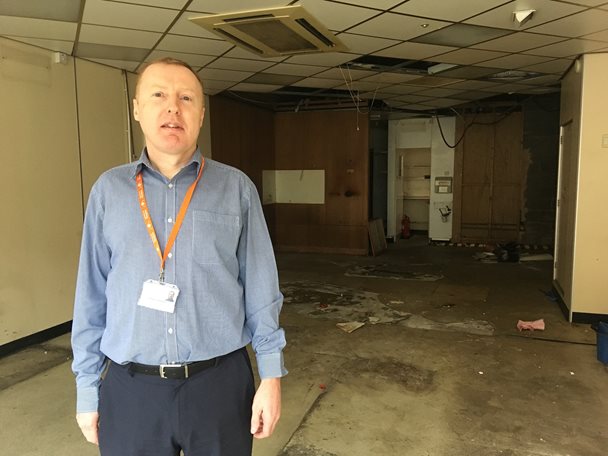 Posted 11 September 2018
Barnsley Hospice is opening a brand-new charity shop in Hoyland, promising a 'completely different customer experience'.
We've taken over the former Cooplands Bakery on King Street, and it will be fully refurbished before the shop opens in early October.
It will have an industrial, minimalist design, aiming to set it apart from the five other hospice shops in Barnsley. There will be a range of premium items from well-known brands, alongside other high quality, but low priced, second-hand clothing and accessories. Homeware, books and children's toys will also be available.
Stephen Hatfield (pictured left), retail manager at Barnsley Hospice, said: "It will be like nothing we've done before. We know the high street is struggling so we want to offer a different customer experience, and we chose Hoyland because it's an untapped area for the hospice.
"We're hoping that the shop will become one of our busiest, both in terms of sales and donations. There has been a lot of investment in Hoyland recently, with new stores being developed, so we want to take advantage of the increased footfall."
Stephen added: "Each year, the shops collectively generate around £675,000 and we expect Hoyland to contribute £100,000 per year – which will be a huge boost for the hospice.
"We do need some help to reach that figure though. Volunteers are the heart and soul of the hospice and without them, we wouldn't be able to open new shops like this. If anyone living in the Hoyland area would like to get involved, we would love to welcome them."
There are currently five Barnsley Hospice shops; at Wombwell, Penistone, and three in the town centre. A donation centre at Dodworth acts as a drop-off point and warehouse, and also houses three retail outlets selling electricals, clothes, DVDs, CDs, vinyl records and books.
To find your nearest hospice shop, click here.