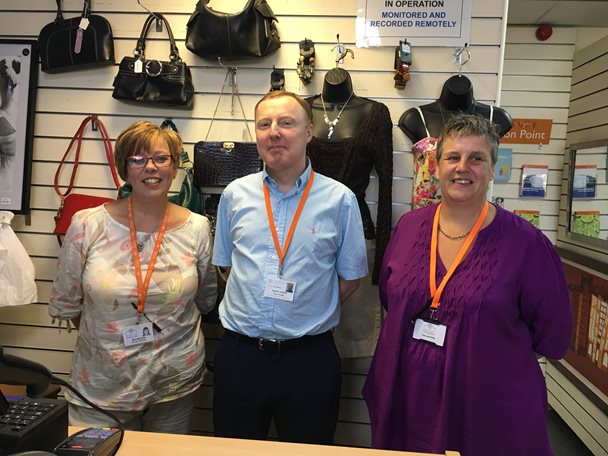 Posted 27 June 2018
There's a bit of a treasure trove hiding on Penistone High Street. Nestled between Greggs and Clinton Cards, opposite the Co-op, Barnsley Hospice's charity shop is a haven of high quality clothing, shoes, homeware and accessories. If you're lucky, you may even stumble across a rare antique or two.
WATCH: Step inside the Penistone shop here
Open since 2010, the shop does more than kit the people of Penistone out in bargain outfits by the likes of Coast, Ted Baker, Topshop, Per Una and Hollister. It also provides a vital source of income for the charity, generating £140,000 from sales in 2017 alone.
Stephen Hatfield, retail manager at Barnsley Hospice, said: "The Penistone shop does a really good trade and we're hoping to beat 2017's total this year and get it up to £150,000. It sells a lot of really high-quality items and there are a lot of bargains to be had. We aim to cater for all purse sizes and for everybody, because the shop has such a huge catchment area."
The shop is stocked according to the seasons, so summer sees lots of bright and cheerful summer dresses, and fancy accessories for race days or weddings. Men can choose from smart and casual footwear, suits, and an impressive range of designer shirts. In the run-up to Penistone Show, there will be plenty of tweed and country wear to be found too.
"It's amazing what gets donated", said Stephen. "At the moment we've got a sewing machine and an antique trouser press here, along with all the clothes and bric-a-brac. Many items that come in are brand new, and we quality-control all the items we sell across all our shops.
"At one time there was a bit of a stigma around charity shops, but now it's the opposite. People like to brag about the bargains they have picked up, which brings more people in, and that's brilliant."
The Penistone shop is managed by Ann Watson, supported by a team of 12 dedicated volunteers. Anne, who is just a few weeks into the role, added: "I really enjoy meeting people and the best part of the job is the locals that come in and the little stories they tell you – everyone is so friendly. The community spirit is what makes the Penistone shop so special, and it feels like a family affair here all day long."
She added: "We have a bit of everything here in Penistone; from walking sticks to wedding hats, and lots of children's clothing and toys. I particularly love it when quirky items like the 1920s sewing machine come in. There's everything you could ever want!"
The Penistone shop is open from 9am – 4pm Monday to Saturday. Stock donations can be made during opening hours, or at the Barnsley Hospice Donation Centre in Dodworth. To enquire about volunteer roles in Penistone, call Barbara Cronin on 01226 323616 or email barbara.cronin@barnsley-hospice.org.
WATCH: Step inside the Penistone shop here
Picture shows from left: Bev Barton, retail support worker at Barnsley Hospice; Stephen Hatfield, retail manager at Barnsley Hospice; Anne Watson, shop manager at Penistone.