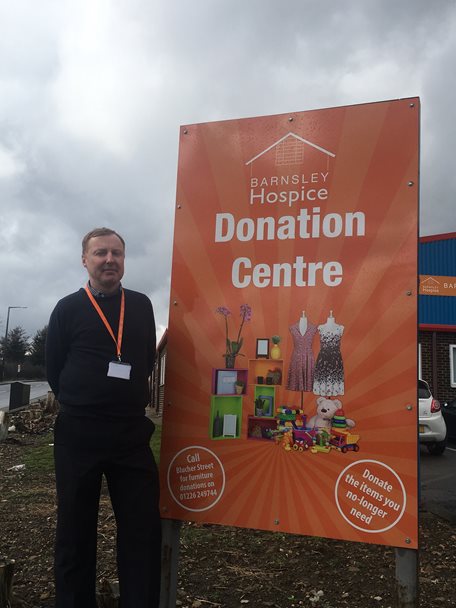 Posted 16 April 2018
The hospice is appealing for more volunteers to help at its donation centre in Dodworth.
The centre acts as a drop-off point and warehouse to store stock centrally, and also houses three retail outlets consisting of a clothing and accessories store, an 'entertainment centre' selling vinyl records, DVDs and books, and a discount clothing store that sells everything – including suits and coats – for just £1.
There are currently 47 volunteers at the centre, which is based opposite KDA Warehouse on Fall Bank Industrial Estate. Their duties include accepting donations of clothing and bric-a-brac from members of the public, encouraging Gift Aid, sorting stock in the warehouse, helping in the retail outlets, and assisting with furniture deliveries.
Stephen Hatfield, retail manager at Barnsley Hospice, said: "We simply couldn't manage without our volunteers here at Dodworth, and it's vital that we find more people who are able to spare some time – even just a few hours a week – to help. The hospice relies on its shops to raise money for patient care, so these are important roles that make a direct difference to families in Barnsley.
"Although the shops here at the donation centre have been open a couple of years, they are a still a bit of a hidden treasure. So, as well as more volunteers, we'd also love to see more people popping down to drop off donations and pick up some bargains at the same time."
Judy Holling, 72, lives in Dodworth and has been volunteering at the donation centre for six months. She said: "I'm retired and I wanted to do some voluntary work, so a friend suggested I join her here, and I love it. It's helping the hospice, but it's also a way of meeting people. When you're retired, you've got to get out of the house, so it helps me too.
"It's a really friendly team here, everyone helps each other, and it's just a really nice place to be. I've had relations who have been in the hospice so it's nice to be able to give something back.
"The people I volunteer with are from all over Barnsley, all different ages, and we enjoy catching up over cups of tea and chatting about our lives and our families."
As well as the retail outlets at the donation centre, there are six other hospice shops; at Wombwell, Mapplewell, Penistone, and three in the town centre. Donations can be accepted at all shops, although people are encouraged to use the Dodworth donation centre if they can.
Between April 2017 and March 2018, the hospice shops brought in almost £30,000 – generating an additional £60,000 profit compared to the previous 12 months.
Click here for a video showing what's on offer at the donation centre, including an interview with Judy.
To find out more about volunteering at the donation centre, call 01226 323616 or email barbara.cronin@barnsley-hospice.org.