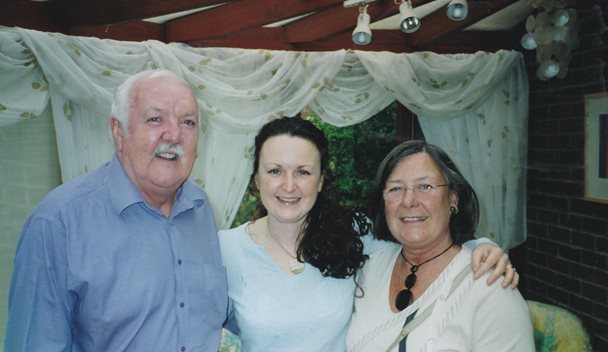 Posted 27 November 2017
A Barnsley woman facing Christmas without her parents will remember them during this weekend's Light up a Life service.
Sarah-May Poppleton, 42, of Staincross, will dedicate lights on the hospice tree in memory of her mum and dad, Brian and Phyllis Hill. They died in 2010 and 2016, of sepsis and cancer. Phyllis had volunteered for the hospice for over 20 years, until just eight weeks before her death from breast cancer.
Light up a Life is our annual appeal that invites people to celebrate the lives of loved ones by dedicating lights in their memory. Five Christmas trees, one at the hospice in Gawber and four at St. Mary's Church in the town centre, will be lit up from next week.
The trees will be illuminated during a church service on Sunday 3rd December at 3.30pm and 7pm, and at a non-religious service in the hospice grounds at 7pm on Thursday 7th December.
Sarah-May's family have supported Light up a Life since it began over 17 years ago. Her mum Phyllis began by dedicating a light for her own parents and after her husband Brian died in 2010, a light was dedicated for him too.
Last year, a light for Phyllis joined the tree and Sarah-May, her husband Dave and 13-year-old daughter Nell, will be at the service on Sunday to remember their family.
Sarah-May said: "Light up a Life is a key event on our calendar each year and has been for a long time, as mum used to volunteer at the services as well as dedicating lights to my grandparents. Christmas is a difficult time without mum and dad and although this will be the second year without them both, in some ways I'm preparing for it to be harder because I've grieved more this year.
"But as a family we will try to reflect on the good times and the memories, and being involved in Light up a Life helps us celebrate their lives. It's like their lights are still shining even though they have gone."
Although Sarah-May and her family choose to attend the church service each year, there is also a non-religious service held in the hospice grounds.
Sarah-May said: "The services are really comforting. The run-up to Christmas is always hectic so they give you chance to sit and be peaceful, and along with others, reflect on the people we all knew. It's sad, there is no way of getting away from that, but it is comforting at the same time too."
Sarah-May added: "Although mum didn't stay at the hospice before her death, they gave us all lots of support, including bereavement support for my daughter. It's comforting to know that through Light up a Life, our donations are helping them provide a service that's so important to the Barnsley community. It's a place that meant a lot to my mum."
The name of each person remembered during Light up a Life is recorded in a special 'Book of Blessings', which will be on display at the church and the hospice over the festive period. The lights will shine until the twelfth night of Christmas, Friday 5th January.
Although the cut-off point for names to be entered into the book of blessings has now passed, people are still able to dedicate a light with a donation right up until Thursday, 7th December.
To support the appeal, visit http://www.barnsleyhospice.org/support-the-hospice/fundraising/event-calendar/hospice-events/light-up-a-life-2017/ or call 01226 244 244. Lights can be dedicated to anyone, not only those who received hospice care.