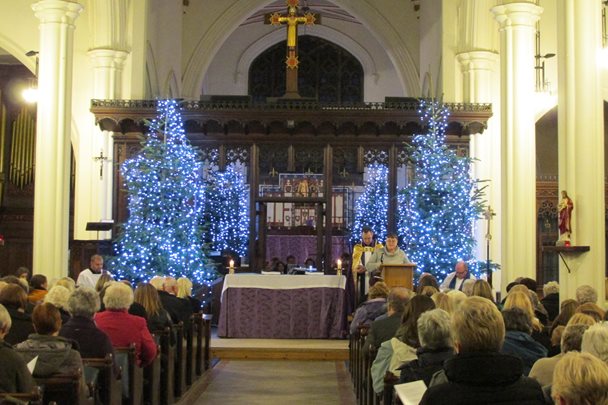 Posted 6 November 2017
We're encouraging people to remember loved ones this December during our annual Light up a Life appeal.
One Christmas tree here at the hospice and four at St. Mary's Church in the town centre will shine with hundreds of lights from next month. Each one will be dedicated to someone special, in exchange for a donation towards patient care.
The trees will be illuminated during a church service on Sunday 3rd December at 3.30pm and 7pm, and a non-religious service here at the hospice at 7pm on Thursday 7th December.
The name of each person remembered will be recorded in a special 'Book of Blessings', which will be on display at the church and the hospice over the festive period. The lights will shine until the twelfth night of Christmas, Friday 5th January.
Zoe Dransfield, family support worker, said: "Light up a Life is a poignant and beautiful way to honour and celebrate the life of a loved one. The festive season can be a difficult time for those who's loved ones have died, and for a lot of families, dedicating a light and watching it shine can bring real comfort."
We've invited dedications for Light up a Life for over 17 years. Lights can be dedicated to anyone, not only those who received hospice care.
Our chief executive Julie Ferry added: "The hospice receives £1.6m from the NHS each year, but we still have to raise over £2m ourselves in order to keep caring for people in Barnsley. The Light up a Life event is extra special because, importantly, it's about more than raising money. It's about remembering family and friends at Christmas, and celebrating the lives of loved ones."
To find out more about dedicating a light, please click here or call 01226 244 244.