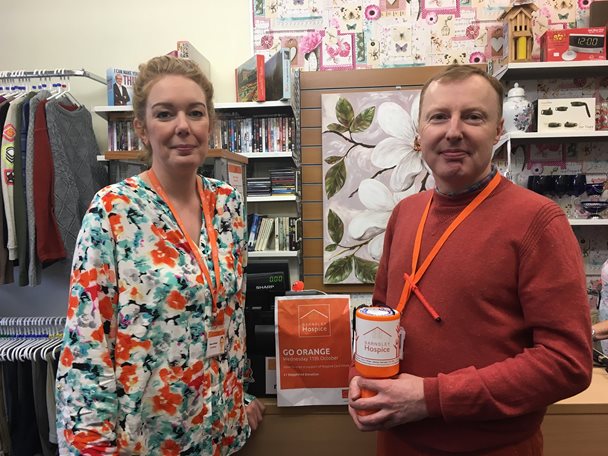 Posted 23 October 2017
Our Wombwell charity shop has seen sales soar since transforming its stock from clearance to quality.
The High Street based hospice shop has relaunched with a new range of quality second hand clothing, accessories and homeware, bringing it in line with our six other retail outlets in Barnsley.
The shop, which first opened in 2001, took £1500 in the week following the relaunch, smashing its target by 50 per cent. Previously, all stock was sold at £2.50.
The new retail offer is focused on quality items that are still competitively priced, and shoppers can browse shoes, handbags, children's toys, workwear, and clothes for both men and women – some of which have never been worn.
Shop manager Rhona Hamilton is the only paid member of staff, with the rest of the team made up of local volunteers.
Rhona said: "We thought the people of Wombwell deserved something better than a clearance shop and we're getting some really good feedback on the new look. It's a real treasure trove now, and we're proud to offer quality items that are still a fraction of the cost elsewhere.
"We're delighted with how much we've sold so far and it's a great feeling to know that every time the till rings, it's more money going towards helping patients and their families."
Our shops play a vital role in generating income for the charity, which has to raise over £2m a year, in addition to a £1.6m grant from the NHS. Last year, they collectively raised almost £294,000.
Retail manager at the hospice Stephen Hatfield said: "Buying things from our shops, or donating good quality stock, is a great way of supporting the hospice and just as important as fundraising. We'd like to thank the people of Barnsley for their continued support of our shops and we're looking forward to welcoming plenty more bargain-hunters through our doors."
Our six shops are at Wombwell, Mapplewell, Penistone, and three in the town centre. A donation centre at Dodworth acts as a drop-off point and warehouse, and also houses three retail outlets selling electricals, clothes, DVDs, CDs vinyl record and books.