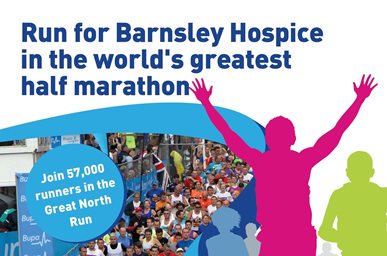 Posted 13 January 2017
Barnsley Hospice is looking for people who want to be part of the world's largest half marathon, the Great North Run on Sunday 10th September.
The Hospice has secured 20 places for people who want to experience the carnival of running and soak up the amazing atmosphere while raising money to help fund specialist compassionate care in Barnsley. Runners will join 57,000 others in this world renowned event. Places are expected to go fast with high demand for people wanting to take part.
Sarah Hattersley, Barnsley Hospice Community Fundraiser said "We are thrilled to be able to offer our supporters the opportunity to take part in the Great North Run. It is the most amazing experience! All we ask from our runners is a £25 registration fee and a pledge to raise a minimum of £350 for the Hospice, money which is vital to provide compassionate expert care for patients with a life limiting illness and their families across Barnsley."
For registration and more information please call Sarah Hattersley at Fundraising on 01226 323627 or email sarah.hattersley@barnsley-hospice.org