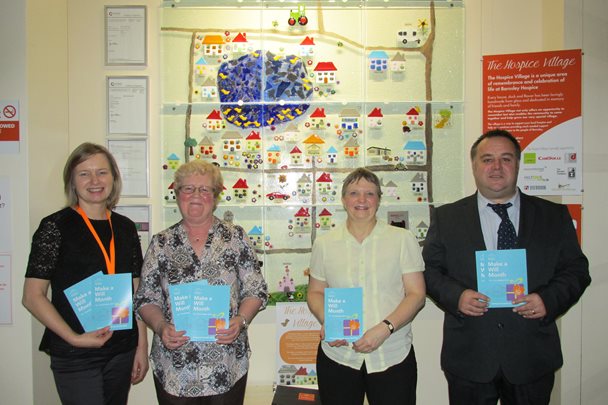 Posted 21 December 2016
The annual Barnsley Hospice Make a Will campaign is set to raise over £8000 thanks to the generosity of Barnsley residents and solicitors.
During October, Bury & Walker LLP, Elmhirst Parker LLP, Peace Legal and Wosskow Brown LLP solicitors all kindly waived their fees for writing a simple Will, in return for a donation to Barnsley Hospice. The money raised will help towards providing specialist compassionate care for hundreds of local people and their families.
Grants, Trusts & Legacies Fundraiser, Janet O'Hara said "I would like to say a huge thank you on behalf of everyone at Barnsley Hospice for the generous support from the solicitors who took part in this years Make a Will campaign. We are always very grateful for the contributions we receive from the local business community, it helps to ensure that the Hospice continues to provide the highest standard of care for patients with a life limiting illness and their families." Make a Will Month for Barnsley Hospice is set to return in October 2017.
Photo L-R: Janet O'Hara, Barnsley Hospice Grants, Trusts & Legacies Fundraiser; Susan Jennings, Bury & Walkers LLP; Yvonne Copley, Wosskow Brown LLP and Anthony Exley, Wosskow Brown LLP